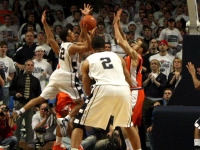 Tonight, Team USA basketball competes in its final exhibition game prior to the start of the Olympics later this week. The game between them and Spain at Palau Sant Jordi in Barcelona is scheduled to begin at 4:30ET (9:30 pm local time) and can be seen nationally on ESPN2.

So we will now see if they can play as well as the 1992 Dream Team who's uniforms they replicated on Sunday, when they barely held on to beat Argentina 86-80. Granted, it is difficult to compare this game to the 92 Gold medal game when the Dream Team defeated Spain.

After all, LeBron James had not yet been appointed king, as he watched the game at the age of 7. Three year old Kevin Durant probably had better things to do, or may have been napping. However, Spanish native Pau Gasol was watching intently at the age of 12 and he says that was the moment he made the decision to become a professional basketball player.

It's been a bumpier road than most expected on this tuneup tour. It began on July 13, as everyone expected, with the Americans disposing of the Dominican Republic in easy fashion 113-59. They were led by Kevin Durant, who came off the bench to score 24 points and grab 10 boards. His 24 point total included 5 for 5 from beyond the arc during the games first fifteen minutes. Check the Sportsbook Odds for the upcoming Olympic Games.

Their next game proved to be much more of a challenge as they emerged victorious over Brazil 80-69. Favored by 30 points, Team USA got off to a horrible start, perhaps due in part, by the nervousness created by the country's number one hoops fan, President Barack OBama in the DC house. King James put the team on his back to insure the win, by netting 30.

The game was basically won after the Americans held Brazil to 5 points in the second quarter following the Brazilians building a 10 point advantage after the first. Brazil continued to fight, however and out-rebounded the U.S. 38-30.

It was then onto Manchester, England where the team had little trouble beating an overmatched unit from Great Britain 118-78. From there, Team USA flew to Barcelona where they encountered another obstacle, known as Argentina. The Argentinians gave the Americans all they could handle before they succumbed 86-80. Kevin Durant once again was the leading scorer for Team USA with 27 points in this one. Start your Online Sportsbook action on the Olympic Games season.

So we enter tonight's final practice game at 4-0 in pre-tourney play, facing the FIBA's number two ranked Spaniards. This group from Spain is led by the aforementioned Pau Gasol assisted by his brother Marc. Marc howver, is experiencing shoulder soreness, along with NBA vets Rudy Fernandez and Juan Carlos Navarro who are also said to be hurting.

No matter what, Serge Ibaka will be alongside Pau Gasol and if Marc is able to join them, it will be quite a test for a somewhat undersized U.S. front line. Guard Jose Calderon is another NBA "baller" who will be present for Spain.

This should be the Kobe and LeBron show for Team USA with a little help from Durant and big men Tyson Chandler and Andre Igoudala. Look for Kevin Love to crash the boards more for the United States too.

Team USA is an 11.5 point favorite on a $110/$100 moneyline. The same moneyline applies to the over/under of 170.5 total points.

Open an Account for the best Sportsbook Parlay and Vegas Teaser Payouts in the Industry.