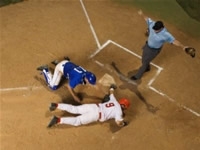 Of the four major American sports, baseball's all star game has emerged as the most relevant of all. The NFL is considering doing away with their all star showcase entirely, due to its scheduling difficulties around the Super Bowl and the large number of players who stay away feigning injury. Basketball and hockey are more shooting exhibitions than true competition.

Major League Baseball, like it or not, has made its Mid-Summer Classic matter, by granting the game winner home field advantage in the World Series. As crazy as that sounds, many forget that prior to this ruling, the National and American Leagues simply alternated years, regardless of which team had the best record.

Top record is the format followed by basketball and hockey. Football goes with the best won/lost total until its championship game, otherwise known as the Super Bowl which, of course, is held at a neutral location. Check the Sportsbook Odds for the MLB All Star Game game.

So it is, as we enter tonight's contest at Kauffman Stadium in Kansas City. Gametime is 7:30ET and can be seen nationally on the FOX Television network.

The AL starting lineup begins with two Yankees, Derek Jeter and Robinson Cano. Not a bad one/two punch to get things going. The middle of the order finds sluggers, Josh Hamilton of Texas, Jose Bautista from Toronto and Cecils kid, Prince Fielder switching leagues this year playing out of Detroit. The bottom four batters include a designated hitter since the game is being held in an AL venue and reads Beltre, DH Ortiz, Napoli and Granderson. Beltre and Napoli join Hamilton for three Ranger starters and Granderson makes it a trio of Yanks as well.

The NL has their DH leading off, in Colorados Carlos Gonzales, followed by the Giants Melky Cabrera in the second spot and three NL Central Division members hiting three thru five, Braun, Votto and Beltran. Sixth through nine has two more Giants in Posey and Sandoval, then Dan Uggla and Rafael Furcal finish it off. Start your Online Sportsbook action on the MLB All Star Game game.

Tonight's starting pitchers are both righthanders, Justin Verlander (9-5,2.58ERA) of the Tigers for the AL versus Matt Cain (9-3,2.62ERA) from San Fran for the NL. Verlander has won rookie of the year, MVP and a Cy Young award and you may recall the perfect game thrown by Cain on June 13. Cain won out as the starter over the Mets R.A. Dickey(12-1), most likely due to Dickeys knuckleball and Posey's ability to handle it as the starting backstop.

Special mentions should be given to 19 year old Bryce Harper of the Reds, the Angels Mike Trout, Ryan Cook of Oakland, Yu Darvish of Texas and the DBacks Wade Miley for being all stars in their rookie seasons. That's a record for first year players (5) in a MLB All Star Game.

The American League is a home park favorite at -$135, while the National League is a +$125. The over / under is 8.5 total runs on a $115/$100 moneyline.

Open an account to take advantage of the Best Initial and Reload Bonuses in the Industry.