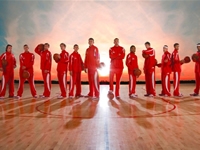 Team USA began Olympic group A basketball competition yesterday with an easy 98-71 win against an overmatched group of frenchmen. Not that the french should feel bad. The Americans should be better than everyone in group A and B enroute to capturing the gold.

Certainly, the next two "tests" should earn Team USA the mark of "A" against Tunisia and Nigeria. Yesterday, as has been their pattern in the Olympic tuneups preceeding this real action, the U.S. got off to a slow start and led by only one point, 22-21 at the end of the first quarter.

Maybe Nicolas Batum's three pointer as the first quarter expired was the needed wake up call this time as Team USA was 0-6 from beyond the arc in the quarter. That all changed quickly in quarter number two with, who else, King James draining a trey and then elder statesmen, Kobe Bryant doing the same in the opening minutes. Check the Sportsbook Odds for the upcoming Olympic Games.

In the meantime, the U.S. added 5 more points to an 11-0 run that put them up for good. They also displayed their trademark defense from that point and emerged victorious despite overall poor shooting and foul trouble.

Even the Spurs' Tony Parker could only manage 10 points for France against his NBA peers. In fairness to the French, they were without Joakim Noah and Michael Pietrus who previously had played for their country. Start your Online Sportsbook action on the Olympic Games season.

In this one, James took a back seat to Kevin Durant who finished with 22 points and 9 rebounds. Kevin Love added 14 points for the Americans. LeBron seemed to focus on defense and relished in feeding his teammates to score. He finished with 9 points, with 8 assists, while grabbing 5 boards and swiping 2 steals. The fact he had more assists than shot attempts (6), might give you an idea of his mindset going in.

Now its on to those two "powerhouses" previously mentioned, Tunisia and Nigeria on Tuesday and Thursday. Lets just hope Team USA can stay awake long enough to finish the contests.

Open an Account for the best Sportsbook Parlay and Vegas Teaser Payouts in the Industry.