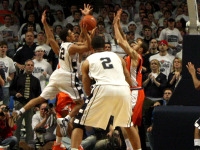 Team USA continues to warmup in preparation for the 2012 Summer Olympics in London. Tonight, the team finds themselves in the nations capital, Washington DC. Do you think Americas number one basketball fan, President Barack Obama will be in the house? In any event, the rest of us can watch the action from the Verizon Center beginning at 8:00ET on ESPN2.

This will be the last practice game held in the United States before the team travels to Spain and England prior to the beginning of the Olympics. In the first contest played here, the Americans had little trouble disposing of the Dominican Republic 113-59 in Las Vegas on Thursday. Check the Sportsbook Odds for the upcoming Olympic Games.

The 54 point advantage was even more impressive given that LeBron James and Kobe Bryant played limited minutes and combined for only 11 points. Kevin Durant starred off the bench in the opening affair, netting a total of 24 points and grabbing 10 boards.

Before the game, it was announced Blake Griffin would have to be removed from the team due to an injury, opening a spot for the NBA's number one draft pick Anthony Davis to join the fun. Durant should enjoy tonight's festivities, even if President Obama can't make it since DC is his hometown.

Tonight's opponent, Brazil is one of the better teams in the tourney. You may recall the 2010 Brazilians gave Team USA all it could handle in the early stages of the FIBA World Championships of that year. Team USA did eventually emerge victorious to claim the trophy. This years Brazil Olympians include four NBA players, Tiago Splitter, Leandro Barbosa, Anderson Varejao and Nene. Start your Online Sportsbook action on the Olympic Games season.

Look for Kevin Love to be a key in tonights action. With a shortage of big men, Team USA will need Love to clean off the boards with the relentless effort he has become known for. Another key matchup should be Chris Paul versus Marcelo Huertas. Huertas was the offensive spark for Brazil back in 2010, but Paul is one of the best defenders in the NBA and should be up to the challenge.

Figure Team USA to be favored by 32. points in this one and the under/over to be around 179.5 total points. Check out the SBGGlobal odds throughout the day to see if the line changes, although the outcome will probably be as lopsided as anticipated. There's also a women's basketball game between the USA and Brazil, to be played at 5:30ET. Odds for that game are 31 points in favor of Team USA, with an over/under of 160.5.