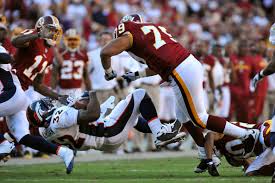 This NFL Sunday Week #8 with the line to Bet on NFL for the game at 4:25PM between the visiting Washington Redskins (2-4, 3rd in NFC East) and the Denver Broncos (6-1, 2nd in the AFC West) whom are favored at opening line of -13 at the Online Sportsbook. The game being played at the Invesco Field at Mile High in Denver Colorado.
In Denver's game this past week with the Colts, Peyton Mannings trek into history was halted as the team's record became undefeated at 6-1 with the 1st loss of the season which will make this Sundays game very difficult for the visiting Redskins. In the game against the Colts, Manning seem to have his most difficult time throwing the ball this season as the ball wobbled more as the game drew near to the end. Many of his problems stemmed from the tremendous pressure the Colts defense applied, as he was sacked four times which is the most since back in a game in 2007.
With the Redskins problematic secondary the lines in the sportsbook should soar for Denver and the Skins must score at least 30 points if they expect to stay in this game. This is a very important game for Washington and the offense with an attempt to reconstruct their offensive momentum after giving up 45 points to the Bears. Crucial to Washington in this game will be tight end Reed whom last Sunday scored a TD and managed 134 yards receiving, as he will be a prime target for R. Griffin 111. This will be the 1st game for Mike Shanahan since back in 2008 when he was fired as the Denver head Coach. One of the main concerns for Washington at present is the special teams which had allowed another team special team a touchdown for the 3rd straight game.
In the last game against the Broncos the Redskins managed to win 27-17 in week 10 of the 2009 season. That loss was the 1st defeat for the 6-0 Broncos under then coach Josh McDaniels. In the 2nd half of that game the Bronco was only able to amass 36 yards on offense which won't win a game.
These two teams were not able to develop much of a rivalry since they began playing each other and for memories fans remember in 1995 Denver trailed at the half 28-0 and finally won that game 38-31 which was quite a remarkable feat. Odds at Online sportsbook certainly favor the Broncos in the matchup! Good Luck to both the Skins and Broncos!