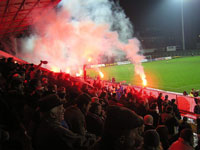 Kansas City turned out to be the "Land of the Giants" Tuesday night at the 2012 MLB All Star Game. San Francisco entries, Melky Cabrera, Pablo Sandoval and Matt Cain were all the National League needed to defeat the American League 8-0.

Cabrera singled in the first inning and scored on a double by R. Braun. AL starter and loser, Justin Verlander, then walked the bases loaded before Sandoval came to the plate and deposited a bases clearing triple to deep right field. It was the first triple hit with the bags loaded in a Midsummer Classic and the first of three, three baggers by the NL, also a record. Check the Sportsbook Odds for the MLB season.

Then Dan Uggla beat out an infield single when Derek Jeters leaping throwing effort alluded Prince Fielder at first base, scoring Sandoval. That made the score 5-0 after one inning of play and set up another Giant, Matt Cain for the win after he pitched two scoreless frames allowing one hit and striking out one.

Cabrera then provided an early encore with a two run homer in the fourth, making it an 8-0 lead and the eventual final score.

It was no surprise that Melky was named the games most valuable player. It was ironic, however, that many questioned Cabrera being named an outfield starter and most thought David Wright deserved the nod over Sandoval for the third base position. There was also much speculation that R.A. Dickey should have started the game instead of Cain.

But all's well that ends well and the ending came early for a group of American League all stars who were shutout and could only manage 6 hits. Chipper Jones got a single in what will be his last All Star appearance. Start your Online Sportsbook action on the MLB season.

The National League has now taken the last three all star contests and the World Series will be hosted by the NL entry once again. Somewhat amazingly, the under of 8.5 total runs held up, even though all 8 were in the books by the fourth inning. However, the American League entering the affair favored at a -$144, was a losing proposition.

Open an account to take advantage of the Best Initial and Reload Bonuses in the Industry.