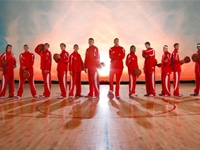 After a tough contest against Brazil with President OBama in the house, Team USA will meet Great Britain in London tonight, which happens to make it 2:00ET in the United States. The game can be seen on ESPN2 nationally.

The game against Brazil showed the glaring need for big men, this United States entry lacks. Brazil grabbed 38 boards to the USA's 30 and LeBron James led his team with a total of 6.

The team also looked lackluster in the beginning, or perhaps it was nerves, with the countries Chief Executive Officer looking on. For whatever reason, Brazil led by ten (27-17) after one quarter. Check the Sportsbook Odds for the upcoming Olympic Games.

Things changed significantly in the second quarter with Team USA outpointing the opponent 20-5. They also played well enough in the second half to emerge with a very unimpressive 80-69 victory.

The only real center on the U.S., Tyson Chandler had one rebound. Yes, I said one! Really?! Coach K, for reasons known only to him, chose to sit Kevin Love and Anthony Davis for all but about six minutes of the affair. The team from Brazil is good, stocked with NBA talent, but not that good.

We now turn our attention to Great Britain this afternoon. This squad from England lacks the NBA influence present on Brazil. Ben Gordon and Byron Mullens said no to their homeland, which pretty much leaves Luol Deng of the Chicago Bulls as Britain's main man. Deng, though, has experienced problems with his wrist all year and is actually delaying a decision on surgery until after the Olympics. Besides Deng, the only other NBA baller playing for GB is the former Rocket, Pops Mensah-Bonsu, so good luck with that. Start your Online Sportsbook action on the Olympic Games season.

This American team must come out with more energy than it showed against Brazil. Kobe Bryant and Carmelo Anthony must step up to meet the intensity shown by King James for them to be successful. Team USA is a 31.5 point favorite and the over / under is 173.5 total points with odds set at 5/6.

Open an Account for the best Sportsbook Parlay and Vegas Teaser Payouts in the Industry.