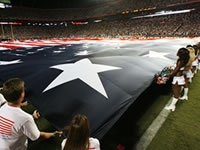 The Hawaii Warriors depart their island nation and head for the mainland and Provo, Utah to take on the Brigham Young Cougars on Friday night. The game in Lavell Edwards Stadium will commence at 8:00 PM ET and will be shown on ESPN.
Hawaii (1-2) had no answers for the running game against Nevada last week. They dropped their Mountain West Conference opener 69-24 allowing 355 rushing yards in the process. RB Stefphon Jefferson ran in 6 TD's on his own for the Wolf Pack. The loss came after a convincing 54-2 triumph of their own versus Lamar a week earlier. QB Sean Schroeder has thrown 6 touchdowns, but also 4 interceptions so far this year. Check the Sportsbook Lines for Hawaii vs. BYU Game.
BYU(2-2) has lost 2 straight close ones, falling to Utah on September 15th, 24-21 and to No. 24 Boise State 7-6 just last Thursday. The Boise State game was particularly ugly, filled with penalties and turnovers. In fact, the Broncos only touchdown came off of an interception. A huge gamble by Cougars coach Bronco Mendenhall, having his team attempt a 2 point conversion for the win, instead of playing for overtime, fell short. Before their loss to Boise, BYU was averaging 37 ppg in their previous eight.
Hawaii is 2-7 ATS lately, and 1-4 ATS when facing non-conference opponents. The Cougars are 7-1 ATS recently, and 6-1 ATS when favorite by double digits. They are 0-6 ATS in Week 5 games, however.
These two teams met last year, when BYU was favored by 8 points over Hawaii. They won that game, 41-20, easily covering. In a 2002 matchup, the Cougars were favored by 10 ½ points, with the Warriors covering but losing 35-32. Start your Sportsbook Betting Action on Hawaii vs. BYU Game.
BYU is a huge 27.5 point home favorite, listed at a -$110 by sbgglobal.eu. Another wager of $110 will be required for the over/under of 50.5 total points.
Open an Account for the best Sportsbook Parlay and Vegas Teaser Payouts in the Industry.
Check the Game Podcast: