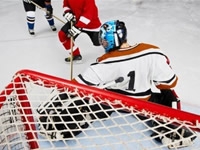 The Los Angeles Kings have gone from being the lowest seed in the Western Conference to one of the more dominating teams in this year's playoffs. The Kings have a 2-0 series advantage over the Phoenix Coyotes after winning the first two games in Glendale by scores of 4-2 and 4-0. The series will head to Los Angeles' Staples Center for the third game.

The Kings are coming off of a dominant road victory that featured a hat trick from Jeff Carter. The Kings have a 93.6% penalty kill rate and have four shorthanded goals so far in the playoffs. Goalie Jonathan Quick has been particularly notable for the Kings. He has a 1.45 GAA and a 10-1 record in the playoffs. His 24-save appearance on Tuesday night was his second shutout of the playoffs. Check the Sportsbook Odds for the Coyotes vs. Kings game.

Captain Dustin Brown leads the Kings with seven goals and fourteen points this postseason. He is expected to play tonight in spite of a rough hit that he took late in Tuesday's game.

The Phoenix Coyotes will be playing without Martin Hanzal. The forward was suspended for this game after performing an illegal hit on Dustin Brown in the prior game. Hanzal has three goals and two assists in the series.

Antoine Vermette leads the Coyotes with five goals and nine points. Vermette has not scored a goal since April 29 when he did it in the team's second game against Nashville. The Coyotes also have a strong 88% penalty kill rate but have yet to get a shorthanded goal in the playoffs.

Mike Smith has been dealing with more shots against him than usual in this series. He faced 47 shots on Sunday and 40 on Tuesday, giving up four goals in each game. Smith has a 2.02 GAA in the playoffs. He was also charged with two penalty minutes in each of the last two games. Start your Sportsbook action on Coyotes vs. Kings game.

The Los Angeles Kings are -210 favorites for the game and have a +145 bet for covering the -1.5 spread. The Phoenix Coyotes are listed at +170 and have a -175 bet against the spread. There is also an over/under of 4.5 goals to be scored in the game and a +250 bet that the game will get into overtime.

Open an account for the best Sportsbook Parlay and Vegas Teaser Payouts in the Industry.