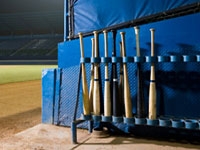 The 2012 version of Major League Baseballs Home Run Derby was a wet affair last night. No, it did'nt rain. Balls just kept splashing in the outfield fountains and pools at Kauffman Stadium in Kansas City, which, of course, will also be the site of tonights Eighty Third MLB All Star Game.

In golf, finding the water is a negative. In baseball when the park where you are holding a home run derby has an aquatic outfield it's all good. That was especially the case for Prince Fielder, who donned an American League uniform this year after switching allegiances between Milwaukee and Motown following in his Dad's (Cecil's) footsteps. Check the Sportsbook Odds for the MLB All Star Game game.

Fielder eventually won the 2012 roundtripper crown after getting off to a somewhat slow start. He hit only 5 homers in the first round, where batters were given 10 outs. An out was any ball struck (or missed), that did'nt leave the field. But even with the low 1st round total, 3 of the 5 home runs hit by Fielder made a literal splash among the fountains of Kauffman. All told, he deposited 8 balls amidst the fountains.

Prince went on to defeat Toronto's, Jose Bautista in the finals 12-7. Bautista got off to a better start than Fielder, but was caught by Mark Trumbo in the second round necessitating a swing off, won by Jose 2-1. Trumbo and Bautista also "found the water" with a couple of their shots. Carlos Beltran finished fourth

Other highlights, or I guess you would have to consider these low lights, occurred when the Yanks Robinson Cano failed to hit even one home run in the contest. To make matters worse, he had been lustily booed by the Royals fans for not naming KC's Billy Butler as a contestant, which were part of Cano's responsibilities as AL captain. Start your Online Sportsbook action on the MLB All Star Game game.

It was the first time in 3 years and the 17th time overall, a participant went homer-less. Fielder's win made him only the second player to win multiple derby titles, joining Ken Griffey Jr. for that honor.

Open an account to take advantage of the Best Initial and Reload Bonuses in the Industry.