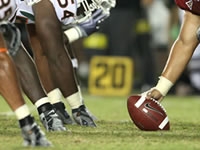 With all the fanfare and luster of Andrew Luck being chosen number one by the Indianapolis Colts on April 26, now but a distant memory, another draft will be held by the National Football league today. This one is the supplemental version, scheduled to begin at 1:00ET.

The idea behind the supplemental draft is to give players a second chance at professional football glory, who, for some reason, were not eligible for the main event in April. A prospective draftee in these proceedings must be considered very valuable for NFL teams to have an interest in obtaining them.

When a player is taken in this draft, the team choosing him must forfeit the identical pick by round in the main draft the following year. As an example, last year, the Oakland Raiders selected Ohio State QB Terrelle Pryor in the third round thereby forfeiting the fifteenth pick in the same round in this years April affair. Pryor was the only player taken in 2011.

Some notable NFLers who came on the scene as a result of this draft were Steve Walsh, Cris Carter, Brian Bosworth and Bernie Kosar. Similarly to last year, this draft appears, for the most part, to be a one man show. Check the Sportsbook Odds for the upcoming NFL season.

That man would be Josh Gordon, a wide receiver from Baylor. Gordon did not play last season, leaving the program due to an impending suspension for marijuana possession. Gordon has the size at 6'3" and 225 pounds of a prototypical NFL receiver.

He has drawn comparisons to Calvin Johnson, at least in that regard. After the 2010 season, coaches regarded him as the number one wideout, above Kendall Wright, who, by the way, was chosen by the Tennessee Titans in the first round of this years main draft.

He could merit a second round selection in the supplemental with the Seahawks showing the most interest, joined by the Redskins, Colts, Dolphins, Cowboys, Browns and Bills. Not necessarily in that order. Start your Online Sportsbook action on the NFL season.

A couple others with a lesser chance to be chosen in this draft are Ed Wesley, a TCU running back and linebacker Larry Lumpkin of Carson-Newman. Five other players also available are Houston Tuminello (WR,McMurray), Montez Robinson (DE,Georgia), Adrian Houghton (OT,Iowa State), Adam Harris (FB,Syracuse) and Quaylon Ewing (DB,Boise State).

Open an account to take advantage of the Best Initial and Reload Bonuses in the Industry.