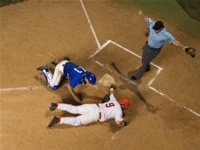 Its a National League Eastern Division showdown as the Atlanta Braves travel to our nations capital this weekend for a four game series versus the Washington Nationals. Game one of the set is scheduled to begin tonight in Nationals Park at 7:05ET.

Should the Braves be able to sweep this series, they would begin next week as the NL East leader, a half game ahead of the Nationals. Easier said than done, however, given that Washington has "owned" Atlanta thus far this year having beaten them in six of the first eight contests.

Atlanta enters the weekend on a high note after beating San Francisco at home on Thursday, after dropping the first two games of that series. On Tuesday, Georgia native, Buster Posey, celebrated his homecoming by going 3 for 5 with 5 runs batted in to spark the Giants 9-0 victory. Barry Zito looked like his old self shutting out the Braves through seven innings on just 3 hits. Check the Sportsbook Odds for the Braves vs. Nationals game.

In game two of the series on Wednesday, San Francisco put up another nine spot in a 9-4 win. This one took a little longer to accomplish as the score was tied at 1 after regulation. Then both teams scored a pair of runs in the tenth to extend the affair. In the eleventh inning Brandon Crawford and Gregor Blanco each hit a 3 run roundtripper to put the game away for the Giants.

Yesterday, the Braves salvaged the series finale 3-2 behind homers from Freddie Freeman and David Ross. The Nationals beat the Mets two of three, but lost yesterday 9-5. Washington (53-37) is an even 5-5 in their last 10 and 26-17 in DC. Atlanta (50-41) has won 8 of its last 10 and is 24-24 away from Georgia.

Tonight's pitching matchup finds two ten game winners facing off with righthander Tommy Hanson(10-5, 4.02 ERA)going for the Braves and another righty, Stephen Strasburg (10-4, 2.66 ERA) taking the hill for Washington. Start your Online Sportsbook action on the for the Braves vs. Nationals game.

The Nationals are a home favorite tonight at a -$155, while Atlanta is a +$135. The over / under is 7 total runs on a $125/$100 moneyline.

Open an Account for the best Sportsbook Parlay and Vegas Teaser Payouts in the Industry.