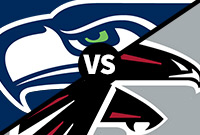 With their defiant squashing of the Detroit Lions, the Seattle Seahawks have advanced to the divisional round of the playoffs for the fifth straight year. Going into that contest, most football betting sites had the Seahawks pegged as the favorites over the Lions. In the end, Seattle was able to prove exactly why their 12th man is so valuable, by beating the Lions 26-6. With that win Pete Carroll advances to 6-0 in home playoff contests, thrusting the former collegiate coach into a conversation with the best coaches in NFL history. There's no doubt that the Seahawks are damn near invulnerable at home. Unfortunately for Seattle, their next playoff game will be on the road. What will most
online sportsbook
s have to say about the Seahawks chances at Atlanta?
NFL ODDS – NFC DIVISIONAL PLAYOFFS – Saturday, January 14th
Seattle Seahawks +4½ (-115)

51½ (-105)

+185
Atlanta Falcons -4½ (-105)

51½ (-115)

-215
Since the Falcons are the higher seed in the NFC it makes sense for the
NFL betting odds
to come out in favor of Atlanta. However, considering both teams' strengths and weakness, this game is anything but easy to predict. In fact, this contest should prove to be one of the best we've seen this postseason (which might not be saying much considering how lackluster the Wild Card bouts were).
Inarguably, the best matchup will be between Matty Ice and the Seahawks Legion of Boom. After consistently carving up opponents' secondaries, Matt Ryan is at the forefront of the MVP discussion and thanks to his stellar efforts the Falcons' passing offense ranks as the 3rd best. However, the Seahawks have the 8th best defense against the pass and have an irrefutable reputation for having some of the best defensive backs in the league. The online sportsbook odds have the Falcons winning this matchup but this is playoff football and both sides feature the best of the best. Undoubtedly, whoever wins this matchup will win the game.
On the other hand, the matchup between the Falcons defense and Seahawks' offense may not be as riveting but will unquestionably be just as important. The Seahawks finished the season with the NFL's 10th best passing offense but 25th worst rushing offense. However, since Atlanta finished 28th against the pass and 17th against the run, Seattle shouldn't have too hard of a time moving the ball this upcoming Sunday. Nevertheless, Seattle will have to find a way to outscore the NFL's best scoring team, despite having the 19th worst points scored per game average. No doubt the difference in each teams' ability to score has influenced football betting sites in Atlanta's favor.
This divisional round appearance will mark the first time
football betting site
s will have had to put together odds for a Falcons' playoff contest since the 2012-13 season. No doubt seeing the online sportsbook odds favor Atlanta has to give their team a slight boost of confidence. In the end, they'll need all the help they can get as they try to topple a team that has boundless more postseason experience than them.