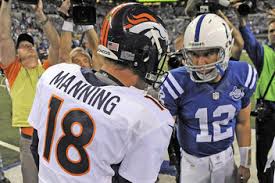 This Sunday 20th will mark the return of Denver Broncos quarterback Peyton Manning to Indianapolis. Indiana Colts fans are probably experiencing mixed feelings about this homecoming of sorts for Manning. Some may give him a hero's welcome, while others may resent the fact that he only won one Super Bowl for them when they were expecting a dynasty. Manning himself may feel ambivalent; obviously he must have very fond memories of the 12 years he spent on Indianapolis. On the other hand, his departure was less than auspicious, and though it may have been what was best for business then (and Denver's last season as well, as this one, prove that it was anything but), it showed Indy's front office to have a very brief memory.
Nevertheless, one thing's for sure and it's that the hometown crowd at Lucas Oil Stadium will be firmly behind the Colts. Indiana could have had a lot bad luck after releasing Manning, and the fans might still be angry over that decision. As it turned out, the Colts have not only had good luck, they have had Andrew Luck. While Luck isn't reminding us of a young Peyton Manning yet, he surely has done his best to make the fans forget about him. His best isn't always enough though; case in point, the Colts' loss to the San Diego Chargers on Week 6. The Broncos didn't have their finest game against the Jaguars either. Though they won 35-19,
online sportsbook
bettors expected more from a contender facing one of the worst teams in the league.
There's no doubt Indiana will put everything on the line to not go on bye with two straight losses. Still, the online
sportsbook
favorites are the Broncos with a -6.5 point spread. Manning certainly doesn't seem like the vindictive type who is coming back to avenge his acrimonious dismissal back in 2010. On the contrary, it will certainly be an emotional night, full of nostalgia for him. And that's not good for the Colts; in fact, it sets the stage for a memorable, once in a lifetime performance. Welcome back, Peyton.