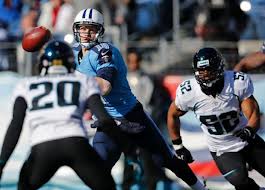 Could it be that the bye week will prove a turning point for the 0-8 Jacksonville Jaguars, as they visit the Tennessee Titans this Sunday 10th? According to the -13 point spread
NFL sportsbooks
are favoring the Titans with, it doesn't seem likely. The Titans have been anything but consistent this year, but they have managed to break even so far, and stopped a three-game losing streak by beating the St. Louis Rams on Week 9. The fact that Tennessee is second place in a division that includes not only the Jags but also the Houston Texans is not something to write home about, but it just might be enough to see them through to the playoffs.
Jacksonville head coach Gus Bradley has announced that quarterback Chad Henne will start again versus the Titans. Henne is no stranger to subbing for an injured starter. Back in 2009 he stepped in for an injured Chad Pennington and ended up starting for the remainder of that season as a Miami Dolphin. This season has put Henne in a similar situation, seeing as how Blaine Gabbert is healthy again but apparently not a part of Bradley's plans. The odds of Gabbert returning to the starting lineup are about as bad as the Jaguars' NFL
sportsbooks odds
of winning this Sunday.
In spite of each team's current standings, the Titans have reasons to approach this game as a do-or-die affair. Any NFL sportsbooks bettor who feels that a Tennessee win is inevitable should remember that the Titans have already lost once to a winless team late in a season (against the 0-13 Indianapolis Colts in 2011). That year the Colts finished with a 2-14 record, the same as last year's Jaguars. One of the only two teams the Jags beat last year? That's right, the Tennessee Titans. Sure, when push comes to shove all that trivia doesn't have to necessarily mean anything, except that anything can happen. The Titans probably have this one in the bag, but it may closer than a lot of people think.