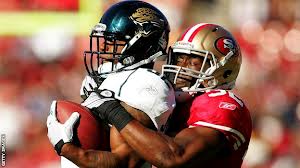 The NFL International Series returns to London's Wembley Stadium in England this Sunday 27th for a game pitting the San Francisco 49ers versus the Jacksonville Jaguars. To say that the Jaguars are underdogs is an understatement. In fact, it's the term for female dogs that actually comes to mind when this team's numbers come to the fore. Numbers like a 0-7 record, or a +16.5
NFL sportsbook
point spread. Jacksonville is not even reliable when it comes to losing. They have covered the spread only once versus the Denver Broncos. Conversely, San Francisco is on a four-game winning streak, and have covered each and every of those occasions.
Jacksonville has lacked consistency on the quarterback position, alternating between Blaine Gabbert and Chad Henne. Additionally, the Jags have lost several offensive linesmen, and it's hard to believe that Maurice Jones-Drew led the league in rushing yards just a couple of years back. Though there are bright spots in wide receivers Justin Blackmon, Mike Brown and Cecil Shorts, Jacksonville's offense can be easily summed up by the fact that they have scored as many touchdowns as they have lost games. As far as defense goes, the Jaguars rank 30 in allowing rushing yards at home. It's no wonder that some NFL
sportsbook
bettors actually expected the point spread to be bigger.
In stark contrast to Jacksonville's QB situation, 49er
Colin Kaepernick
has not only been consolidating himself, but actually adding diversity to San Francisco's offense. For example, on Week 7 versus the Tennessee Titans, Kaepernick was outstanding both on the ground and through the air. There is no doubt in NFL sportsbook experts' minds that the 49ers can effortlessly take by surprise a Jaguars defense that already looks like a deer caught in the headlights, losing all of their games by double digits. At this point, the only thing that San Fran and Jacksonville have in common is that they both will be going on bye on Week 9. The break will be welcome by both teams, either to bask in their success or to lick their wounds.