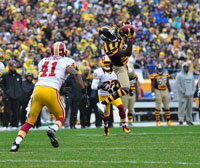 January 7th when the Playoffs are scheduled to begin. All the excitement that comes with betting on NFL will have to wait as for the moment, as only prop bets are there, the lines for the first week of
NFL football
have not as of yet been posted. But here are some of the games that will be interesting to see.
The first game of the season will be a Super Bowl rematch between the Panthers and Broncos at
Thursday Night Football
at Mile High Stadium. Minus Peyton Manning and Brock Osweiler, the starting QB position for the defending champs has not still been filled yet. They signed Mark Sanchez during the offseason, but it is reported that he came in to be a back up quarterback for whomever the Broncos pick. As for the Panthers, after a great regular season and a good playoff run, Carolina will be looking to get revenge on Denver in the starting game. Cam Newton has been keeping himself busy and in shape in order to have another shot at the Vince Lombardi trophy.
On Sunday, the Giants and Cowboys rivalry reignites as they play in Dallas, with both teams trying to reach the playoffs this season. The Giants open up a new chapter in their life minus Tom Coughlin and with Ben McAdoo leading the charge. The Cowboys will want to make good on the promise they have of being one of the immediate impact teams in the league at the moment. Of course we still have to see what will happen at the draft. Betting on the NFL for Sunday, and on this game will be rather interesting.
Online betting fan favorite's the New England Patriots will take the field on Sunday Night Football when the play against the Arizona Cardinals. The Patriots were almost in the
Super Bowl last season
and the do not want to be on the outside for another season. The Arizona Cardinals had a pretty great run last season, and they should be a good football team this coming season, so this game will be interesting. They will play at Arizona.
Monday Night Football will feature two games to start, and much to the enjoyment of fans that bet on football. First, the Steelers will want to leave a good impression on National TV by going to Washington and beating the Redskins. This should be an interesting game, considering that Washington might be going through a rebuilding phase.
Finally NFL's opening week for 2016 comes to a close with the "debut" of the Los Angeles Rams when they travel up north of the state to San Francisco to face the 49ers. This game will be interesting to see how it will shape up, considering that San Francisco's offense might look very different from last season, and with the recent move for the NFL Draft the Rams could have an exciting offense. If you bet on NFL, this game will be very appealing to get some action.