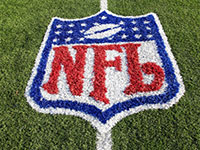 NFL betting fans around the world were charged with a thrilling game and a blowout. There were highs and lows in the Championship games, but in the end both favorites Seattle Seahawks and New England Patriots have reached the Promised Land, the big dance. Super Bowl XLIX will be played on Sunday February 1st in the University of Phoenix Stadium in Glendale, Arizona.
Let's start by saying that the Seahawks pulled off an exciting comeback that will be remembered in years to come by many NFL betting fans. That game had all the thrills and chills that one could wish for a Playoff game, that is of course if you are a neutral fan.
During the game we saw the Packers have a strong first half, making Russell Wilson struggle and having the ability to take a good lead for better part of the game. Wilson threw for a total of 4 INTs, and during the game his confidence was questionable.
With just over two minutes left, Wilson found Beast Mode in a 26-yard pass, that would then set up his one-yard TD. Then came the onside kick. Packer's tight end Brandon Bostick botched what seemed to be an easy catch, and turned the ball over. After scoring a TD that put them on the lead came Wilson's redemption. A Hail-Mary pass for the two-point conversion that found Luke Willson open. The Packers would then be able to tie the game with a field goal forcing overtime.
Luck would have it that the Seahawks won the coint toss and in six plays score the TD that would seal their Super Bowl trip. The final play had the drama and it cemented Wilson's redemption with a 35 yard pass from Wilson to Jermaine Kearse.
From the drama of an OT game to the anti-climactic game that saw the Patriots blow out the Colts. But not to the Patriots fault, they were dominant and deserve their trip to the Super Bowl; we just had higher expectations of the Colts.
With this win, Tom Brady made history in becoming the first QB to play in SIX Super Bowl games and the first QB with 20 post season games. Like him or hate him, he is the best postseason QBs of all time.
The final stats will read that the Patriots walked all over the Colts. Brady threw for 226 yards, and three TDs, while RB LeGarrette Blount ran for 148 yards and three TDs of his own. The Patriots looked like a force to be reckoned with.
That leaves the two best teams in the league facing each other for the Tittle. NFL betting doesn't get any better than this.