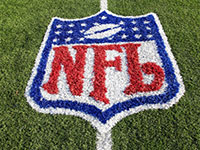 The NFL betting season closes its divisional round chapter and moves on to the highly anticipated conference championships. After four fantastic games of Football, each with some interesting narratives, the anticipation of what's to come is high, but for now let's take a closer look into the aftermath of the showdowns we had this past weekend.
The first game of the weekend saw how Tom Brady and Bill Belichick got past their Divisional bitter-rivals Ravens in a game that had a Vintage Brady performance. Love him or hate him, he was pretty darn good on Saturday. The Pats came from behind in 14-point deficit twice to fend off the Ravens. Experts might argue that they had the toughest challenge in the AFC and the Pats are almost surely on to the Super Bowl.
That is unless the Colts have anything to say about that. NFL betting fans who placed their wagers of the underdog Indiana team, were jumping for joy as Andrew Luck took this team on to the face the Patriots this weekend. You can say that Luck is cemented his status as a dominant Quarterback, upsetting the 7 point favorite Broncos team. They will go on and be underdogs once more when they face the Patriots who are very likely going to be a double digit favorite.
The NFC games were a sight to see. The defending champions Seattle Seahawks, with an impressive Kam Chancellor moved pass the Carolina Panthers, who in part put in a very decent fight and kept it interesting. Cam Newton as good as he has been, he turned over the football in Seattle, a place were you do not want to do that. Seattle moves on and will be awaiting the Packers.
The ever so controversial Calvin Johnson rule has struck again and this time is the Dallas Cowboys who had the short end of the stick. Detroit Lion's fans and other NFL betting fans are calling it karma. But anyways, the unfortunate controversy is out staging the amazing performance that Aaron Rodgers had yesterday for the Green Bay Packers. Aided by rookie WR Davante Adams, Rodgers who was clearly limping on the field, managed to barely escape a very tough and talented Cowboys team. The are now going to Seattle in a match that (should Rodgers be healthy), has the potential of being an instant classic.