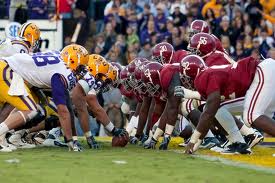 Hello fans of betting on college football! After much talk and anticipation, the final standings have been released and we have now the final playoff picture. Regardless of the final standings, it was expected for the committee to have a controversial final decision, but more on that later. The final rankings are Alabama at No. 1, Oregon at No. 2, Florida State at No. 3, and Ohio State at No. 4.
In the end the committee couldn't steer away from controversy leaving Baylor and TCU out of the playoffs. Of the two, one could argue that Baylor is deserving of that fourth spot in the playoffs. But, either way all three teams (TCU, Baylor, and Ohio State) have a strong case for them to be included in the final four. Those who follow and have been betting college football would agree, however that currently the toughest team of them is in fact Ohio State and that their recent performances were enough to earn them that playoff spot.
The affected party in this case is the entire Big 12 Conference. Both TCU and Baylor were worthy contenders and the inability of the Big 12 to crown a Conference Champion in the end caused more harm than good. It left the Big 12 out of the National Championship race.
Now for the Playoffs, the semifinal matchups will be Alabama vs Ohio State and Oregon vs Florida State. If you are betting college football, for these matchups there are a couple of factors that you need to take account for. First off, Ohio State will come into their math up with their third string QB (who performed amazingly in their last game). If they put an epic performance and are able to beat Alabama, they still have to play another difficult team in the finals. As for Alabama, they are looking strong as a cohesive unit. The Crimson Tide has played wonderfully and are definitely the favorites.
In the other bracket, we have a matchup that will be a sight worth seeing. The Oregon Ducks with Marcus Mariota will face the undefeated defending champions Florida State Seminoles with the controversial Jameis Winston at the helm. This match up is a close as it can be, The Ducks are perhaps the team that could very well give the Zombienoles that L in their flawless record, they are the toughest team Florida State will face until now. Should they move pass them, it will give them a boost to face the National Championship game with a whole new energy. For those betting college football, we have exciting times ahead of us.