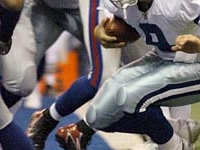 Down goes No. 1 Mississippi State and very likely they will no longer hold the No. 1 spot after today, and college football betting will have a different scene, with the playoffs so close. The fight for the No. 1 spot is starting to look like something out of "Game of Thrones". With The Bulldogs inevitable fall from the top spot, the question remains on to whom will take their place. There are several teams that could very well make the case of claiming the coveted No.1 spot.
The case that we are more inclined to (at least more deserving) to claim that top spot is The Florida State Seminoles, who have not yet lost a game. They might be playing as good as their previous season, but even so they are currently holding a perfect record. Plenty sports writers all over the nation are pushing for them to be the No. 1 team. College football betting fans will know that the Seminoles, might have a perfect record, but there are other teams playing better than them currently.
One of those teams is the Oregon Ducks, their loss at home against Arizona was a result of several starters injured during that game. Now, one could argue that they shouldn't have lost that game against a 3 TD underdog, also that the Seminoles had games where they had important players unavailable and won them regardless. But one thing is for sure, they are playing better football than the Seminoles and their schedule is looking easier for them for the final stretch of the season.
In the words of the immortal Ric Flair "To be the man, you have to beat the man," and with that philosophy the Alabama Crimson Tide could very well raise their hand and be considered to be the No. 1 team. They beat the mighty Mississippi State and they are a good team to consider week after week when doing your college football betting. As all fans we await for the committee to release their rankings later on today, but expect any of these three teams to be on the top spot.