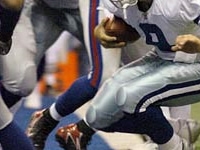 In weather-related NFL football betting news, with the recent snowstorms hitting Buffalo, the NFL is considering of postponing the Jets vs. Bills game that was going to happen this Sunday. A potentially record-breaking snowfall is hitting Buffalo, NY and according to weather specialist it might not let up through out the weekend.
What this means is that the league is currently considering the possibility of postponing the game to later on the day on Sunday or even moving it to Tuesday. A delay for both teams could place them in a considerable competitive disadvantage, but the Bills in particular can be affected the most by this snowstorm.
The game that featured both the Jets and the Bills was considered as an important one in the AFC playoff race. The most affected team by this possible delay could be the Bills since they are still on the fight to get a playoff spot. Should they win this game and it will put the pressure on the Miami Dolphins who have to face Peyton manning and the Denver Broncos in Mile High Stadium.
After facing the Jets, the Bills have yet another tough test against the Cleveland Browns, a game that will can be decisive for both team's playoff hopes. This weekend is an important one all over the league and NFL football betting fans will be eagerly awaiting news coming out from Buffalo.
Currently, the Bills are turning to their fans in order to help them clear the snow. Currently they are offering fans and volunteers $10 per hour and game tickets to help them shovel the large amounts of snow at Ralph Wilson Stadium and surrounding areas. Any Buffalo residents and NFL football betting fans, this is your chance to help the team and get something in return.