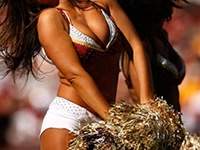 This Sunday afternoon, the San Diego Chargers travel to the Midwest to take on the Cleveland Browns. Gametime in Cleveland Browns Stadium is scheduled for 1:00 PM ET, with all of the action to be covered regionally on CBS.
The Chargers had Week 7 off, but are coming off of a loss at home on Monday night in Week 6 to the Denver Broncos, 35-24. The Chargers blew a 24-0 lead at halftime, giving up 35 points in the final two quarters. Denver QB Peyton Manning led the team to 3 touchdowns, while the Chargers gave up another two on fumble and interception returns.
In fact, the Chargers committed 6 total turnovers, including 2 fumbles and 4 interceptions. QB Philip Rivers threw 25-of-41, for 241 yards, and 2 touchdowns. The Chargers have earned a place in NFL history by becoming the only team to lead 24-0 by halftime and lose by double-digits. Check the Sportsbook Lines for Jaguars vs. Packers Game. Start your Intenet Sportsbooks action on Chargers vs. Browns Game.
The Browns are coming off of a close loss on the road to the Indianapolis Colts, 17-13. The Cleveland defense did not allow a single passing touchdown from Indy, but gave up two running touchdowns to QB Andrew Luck. The Browns held a 264-173 edge in passing yards, but suffered a 148-55 deficit in rushing yards. QB Brandon Weeden threw 25-of-41, for 264 yards, and 2 touchdowns. WR Josh Gordon ran for 59 yards and a touchdown on 2 catches. On the positive side, the Browns covered their last home game by 12 ½ points.
The Chargers are 0-5 ATS as a favorite of fewer than 5 ½ points and playing an opponent outside of their division. They are 3-3 ATS on the year, and 1-0 ATS as a road favorite. The Browns are 3-3 ATS overall, and 2-1 ATS as a home underdog. Check the Internet Sportsbook odds for Jaguars vs. Packers Game.
These two teams have met five times since 2001, with the Chargers holding a 4-1 series edge. Their last meeting, in December 2009, resulted in a 30-23 Chargers victory. In that one, San Diego was a 13 ½ point favorite. In a November 2006 matchup, the Chargers won 32-25, after they were favored by 12 ½ points. Over their last 6 meetings, each team has covered 3 times.
For this Sunday's game, the Chargers are 2 ½ point road favorites from sbgglobal.eu sportsbook. The over/under is set at 44 points.

Open an Account for the best Sportsbook Parlay and Vegas Teaser Payouts in the Industry.
Check the Game Podcast