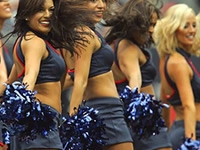 Counting down the days, hours to the big game, all sorts of Super Bowl picks are now being thrown all over the place. The favorite New England Patriots (-1) have another sort of prediction backing them up for Sunday's game.
Popular video game company EA Sports, manufacturers of the celebrated Madden video game series have ran their traditional Super Bowl simulation game and they have provided us with their prediction of what's going to happen in Super Bowl XLIX.
In the Super Bowl Simulation that was published in their official YouTube channel, EA Sports have released their predictions that the New England Patriots will win the Super bowl in a very close game, a final score of 28-24, with an inspired performance by Quarterback Tom Brady. At the end of the game Brady was also named the MVP of the game with quite the stats, 355 Yards and 4 Touchdowns.
For the Seattle Seahawks, Marshawn Lynch rushed for 118 yards and scored 2 Touchdowns. Considering the overall "effectiveness" the simulated predictions have had for EA Sports (8-3 for the Super Bowl), you might want to take them a bit serious and add them top your Super Bowl picks.
EA Sports and the Madden platform were not able to perform games where the results were unlikely, like last year's game or the 2008 Super Bowl (when the Giants shocked the world).
But, for example in 2013 their simulation was able to pick correctly the the winner, point spread and the MVP. So it is worth considering.
Now, users who have a video game console and Madden NFL 15 at home are more than welcome to run their very own simulations. This just adds more excitement to the matter, and this week every body will have their own Super Bowl picks.