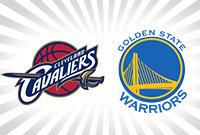 If you're betting on basketball, do not adjust your TV set. The 2016 NBA Finals starring the
Cleveland Cavaliers versus the Golden State Warriors
is not a rerun. However, instead of a sequel of last year's championship game, it might be more of a remake. The Warriors are the favorites (-250) over the Cavs (+210) at SBG Global sportsbook to win game 1 on Thursday, June 2nd at the Oracle Arena in Oakland, California. Same as last year, the format will be 2–2–1–1–1 (Games 1, 2, and if necessary 5 and 7 at Golden State, and games 3, 4, and if necessary 6 at Cleveland).
Also same as last year, as fans betting on basketball might recall, the Warriors won the regular season series 2-0. In 2015, they went on to win the Finals 4-2. Will history repeat itself this year? It's a funny thing; basketball is a game of changes but also of patterns. Last year's finals marked nearly 10 years since Cleveland reached that stage, and 40 since GS did likewise. Moreover, both teams entered the series with four-decade championship droughts – the Warriors having won their last in 1975, and the Cavs having never won, a dearth which remains to this day. And here we are today, with the two teams perhaps starting a brand new NBA rivalry. Additionally, Lebron James has also become a fixture of the finals, having made the last six and winning two with the Miami Heat.
People
betting on basketball
have compared this Golden State team to the Michael Jordan's Chicago Bulls, and the comparison is not uncalled for. In 2015, the Warriors became the first team since the 1990–91 Bulls to win a championship without any player on roster having any previous experience in final series. And this year, they broke the record established by the 1995-96 Bulls by going 73–9 in the regular season. And the 1997-98 Bulls had their own rematch in the finals versus Karl Malone's and John Stockton's Utah Jazz – and that is one comparison that the Golden State Warriors might want to live up to.
There is one aspect that allows for no comparison, though, and it's the fact that Stephen Curry is not the second coming of MJ. Having said that, Curry is not god, but he's pretty damn good. In game 7 of the
Western Conference Finals
, Curry led the Warriors as they became only the 10th NBA team to return from a 3-1 deficit in the postseason. The Oklahoma Thunder came the closest to bumping off GS, and it's hard to picture the Cavs coming any closer. Then again, no one saw this Thunder coming, either. Now Lebron James – after having said his piece about who should've been MVP and who should've been coach of the year – will have a chance to put his money where his mouth is. And you will have a chance to put your money on either the Cavs or the Warriors at SBG Global
sportsbook
.