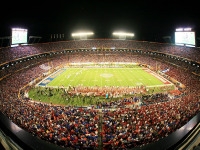 Week 8 is here and now it is time for us to give you our NFL football picks for this weeks action. Last night, the Denver Broncos continued their excellent run, as they beat the Chargers 35 to 21, with Peyton Manning still powering through the opposition. But what about Sunday's games? Here are some of our predictions for the action happening this week.
First off, one of the games that should be interesting to watch is the St. Louis Rams versus Kansas City Chiefs. Last week the Rams pulled one heck of an upset against current defending World Champs the Seahawks, and now many pundits and experts are speculating if the Rams have it in them to follow up on that amazing performance against the Chiefs.
Kansas City, on the other hand, have proven this entire season to be a stronger team, and now they are playing at home against the motivated Rams team. Expect this game to be a close one and a very low scoring game also.
Another very interesting game that NFL football picks experts are all very interested in, is the Seattle Seahawks and the Carolina Panthers. Like we said previously, the Seahawks had a heartbreaking loss last week and were the laughing stock of the NFL all week long.
The Panthers are arguably a stronger team than the Rams, but the Seahawks are stronger than the both of them. That's why we think that for this game the Seahawks will want to send a message to the rest the league. Expect the Seahawks to win and by a double-digit margin.
Finally, the game that is gaining a lot of attention this week is the Chicago Bears at New England Patriots. Both teams have experienced the same effect only in opposite directions.
When the season began, NFL football picks had the Bears as one of the top teams on the league this season. And their first games had everybody thinking this could be the Bears year, however their performance in the past few games have left the Bears Bandwagon empty and broken at the side of the road.
The Patriots on the other hand, after a rocky start of the season, and after a felt loss against the Chiefs, nobody gave the patriots any chance in the current season. How things have changed. Now the Patriots are being considered one of the favorites to reach the Super Bowl. This game will capture both teams current status quite well. We predict a blow out in New England for the Patriots.