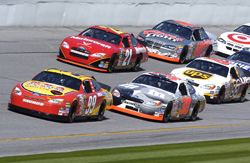 For racing fans the 2016 NASCAR season is set to begin this Sunday the 21st of February as race fane get the green light for the start of the Daytona 500 ("The Great American Race") and we have gathered some expert predictions for this auto-racing event this Sunday from Daytona Beach, Florida and we have some betting predictions for the outcome of same.
So if you're a fan that would Bet on NASCAR at a sportsbook and since this is the 1st race of the new NASCAR Sprint Cup series and the 2016 season, many wonder if last year's top drivers are set to win this event, or are there other unheralded drivers coming up in the ranks that we should consider as having a chance to win this event.
So with this being the most influential race of all NASCAR events each season, this being from Daytona Beach, let's take a look at some experts picks;
The 1st expert being J. Gordon who recently retired and a 4 time Sprint Cup Champion, and a 3 time Daytona 500 winner his opinion certainly is respected. He has predicted that his former teammate from Hendricks Motorsports racing D. Earnhardt Jr. whose odds to win are at +500 will be the winner of this 2016 Daytona 500. He thinks that Earnhardt's experience at Daytona and the restrictor plate races will weigh in his favor.
In the 2015 season Earnhardt actually won 4 different restrictor plate races, and also has won this event on 2 previous occasions and the most recent being back in the 2014 event.
Another expert is B. Thornsburg who is with Beyond the Flag who had picked T. Stewart who was to retire at the end of this season who at this track had won 4 events and finished in the top ten some 14 times at this famous Daytona track, but never won the Daytona 500. However, the week before the race Stewart and Gordon were riding all-terrain vehicles and Stewart had a crash and fractured some vertebras in his back, which will keep from driving in this event, and will watch. His replacement for the Stewart-Hass racing will be B. Vickers who would like very much on his return to racing to win this event, since being on the sidelines off and on with reoccurring blood clots since back in 2007 and now has medical clearance to return to the cockpit! In his racing career Vickers has 3 premier series wins.
The 3rd expert to weigh in on the Daytona 500 is C. Hagan of FOX sports from Fox 59 in Indianapolis who has made a very bold prediction as he predicts D. Patrick would win the Daytona 500 this coming Sunday the 21st of February 2016. So his bold prediction is thought to an overstatement by many, since Patrick in her career has only 7 career races in which she place 9th or better in her 4 season Sprint Cup Series of NASCAR. To make things worse with the prediction is that she has yet to win a race in this Series and to date has not had a top 5 finish. However, she did win a pole position back in 2013 and thus remains at +6,000 odds to win this 2016 Dayton 500.
Yes, there are some other sports betting predictions forthcoming on this event so stay tuned.