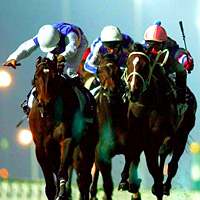 There have been some talk and speculations around the legalization of sportsbetting in New Jersey. The name Monmouth Park has been mentioned more than one time in sportsbetting news, as the place that would host this great breakthrough in the history of the state.  Teaming up with the proper affiliates, this place has agreed to be the racetrack's provider for sportsbetting odds.
While many ask themselves if this is really going to work, both parts of the agreement are working hard to be recognized legally according to federal law and they are developing a sportsbook that can compare to the style of those found in Las Vegas.  They are just waiting for the authorities of the New Jersey Gaming system to approve the plan.
---
The state of New Jersey had a referendum in 2012 to enact a law for the legality of sports betting.  It ended up passing with a 2-to-1 margin.
The major sports leagues like the MLB, NFL, NBA and also the NCAA league are against this becoming a reality and have even sued to attempt to stop the plans.  They are certain that by allowing this, the name of sports will be tainted and that it is a violation of federal law.
In the month of February, a federal judged made the headlines for ruling in favor of the professional sports leagues and the NCAA.  However, the State of New Jersey did not wait and quickly responded with an appeal and an argument that will be heard on June 26 at the Third Circuit Court of Appeals. Dennis Drazin from the NJ Thoroughbred Horsemen Association is truly optimistic that the law will pass and that Monmouth Park will pull through as a sporstbetting odds center.
"We anticipate sports betting coming to New Jersey and bringing Las Vegas-style sports betting to Monmouth Park," Drazin said.
To promote the motion, a $1 million Haskell Invitational will be taking place on July 28.  It will bring together some of the best 3-year-old racing horses of the country.