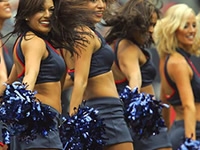 Sportsbetting: Broncos vs. Cardinals in NFL Preseason Week 4 . The Arizona Cardinals haven't covered a single spread in four preseason games this year but the finale presents a great chance to do so. Following a 32-27 loss to the Titans last Thursday, head coach Ken Whisenhunt admitted that the quarterback competition was murkier than before the game began.
Going into the game it appeared as though John Skelton would be the opening-day starter but Kevin Kolb marginally outplayed him. Start your Sportsbetting action on the Denver Broncos vs. Arizona Cardinals Game.
But Whisenhunt has confirmed that neither quarterback will play in the finale even though neither has played well in the preseason. Apparently he's seen enough to determine a starter. We haven't…through four exhibitions Skelton and Kolb have combined to throw for two touchdowns and five interceptions.
Those two have been hurt by a caving offensive line. The left tackle spot is a major question mark now that Levi Brown is on IR. The line allowed four sacks for the second straight week after yielding seven in Week 1.
Not playing suck and sucker might actually improve the Cardinals offense. Peyton Manning won't be on the field so Caleb Hanie and Brock Osweiler will be taking all the snaps here, and Arizona's third-stringer Ryan Lindley is arguably better than both of them. Richard Bartel will also see some reps under center.
Whisenhunt said that Beanie Wells and Ryan Williams will also get a few runs Thursday. Wells just returned to the lineup last week while Williams missed the first two preseason games. We know for sure the bulk of the starting line will be active because it needs as much live action as it can handle.
Other than maybe a couple of defensive players, Denver won't be trotting out any of its starters Thursday night. Manning only played one quarter, which consisted of three possessions, in the Week 3 loss to San Francisco. There is no way John Fox is putting his offensive catalyst at risk in this meaningless matchup.
Manning looked great in the regular season dress rehearsal Sunday, firing two touchdown passes and leading the Broncos to 17 points. Because of the quick turnaround we expect most of the other offensive starters to sit here.
That's not a good thing if you're looking to back the Donkeys. The second- and third-teamers have been flat out awful the last two weeks of the preseason. Hanie did manage one touchdown drive in the second quarter last weekend but he also threw an ugly pick. Check the SportsBetting Lines on the Denver Broncos vs. Arizona Cardinals Game.
After the Broncos were outscored 21-0 by Seattle in the second half of Week 2, Fox admitted that he was "concerned with all of our depth at this point."
Denver was outscored 19-0 on Sunday against the Niners. Third-string quarterback Osweiler was drawing rave reviews early in camp but he's looked lost the last couple of games. Consider yourself warned.
Open an Account for the best Sportsbook Parlay and Vegas Teaser Payouts in the Industry.