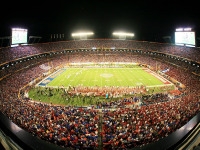 Sports Betting: Georgia Bulldogs vs. South Carolina Gamecocks. The SEC has a legitimate claim to the top spot among the nation's BCS conferences, considering their 6-year streak of BCS Championships. That conference prestige factors in heavily to the polls, apparently, as the SEC claims 5 teams in the top-10 nationally. Two of those teams are about to face off on Saturday, and if you are not in front of your television for this kind of college football wagering action, you must not like sports betting.
For all of those who do enjoy an athletic wager, look no further than the top matchup of the week, when the #5 Georgia Bulldogs head north to Columbia to take on the #6 South Carolina Gamecocks.
The odds makers are much like the pollsters in this one, in that they too struggle to find much difference between these two teams. Right now, the live lines have the Gamecocks listed as 1.5-point favorites, though that is likely due largely to the home field advantage.
In truth, these two teams play somewhat conflicting styles. The Gamecocks have made the full transformation into a typical SEC team by playing defense and taking names. South Carolina ranks 6th in the country in points allowed but only 34th in points scored. When they do have the ball on offense, the Gamecocks rely on their workhorse back, Marcus Lattimore, who already has 8 touchdowns on the year. Check the Sports Betting Odds on the Georgia Bulldogs vs. South Carolina Gamecocks Game.
Georgia, on the other hand, ranks 8th in scoring but only 22nd in defense. Their freshman duo at running back has been as stellar a group as there is in college football, with Todd Gurley and Keith Marshall each averaging right around 8 yards per carry, and combining for 14 touchdowns on the year.
When you jump into college football betting this weekend, do not miss the elite showdown between the Georgia Bulldogs and the South Carolina Gamecocks. Looking at the live lines, I would stick with the favorite here, as the freshman backs of Georgia have never faced a true SEC defense until now. Look for South Carolina to slow them just enough to eke out a victory.
Open an Account for the best Sportsbook Parlay and Vegas Teaser Payouts in the Industry.