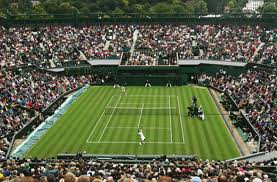 British Andy Murray is the current Wimbledon champion, but he is taking a backseat in sports betting odds to Serbian Novak Djokovic, Rafael Nadal, Roger Federer, and Stanislas Wawrinka are also among the favorites. As for the women's singles participants, Serena Williams, Maria Sharapova, Victoria Azarenka, Petra Kvitova, and Eugenie Bouchard are the top contenders.
Competitor

World - Ranking

- Odds
Competitor

World - Ranking

- Odds
Sloane Stephens
18
25/1
Seeing Serena Williams and Maria Sharapova as women's singles sports betting favorites is par for the course, but finding golden boy Rafael Nadal relegated to playing third fiddle to Djokovic and Murray is a bit of a shocker. Nadal is just coming off his 5
th
French Open Championship in a row -and 9
th
overall- and so far this year has defeated Murray, Dimitrov, and Berdych twice, and Federer once. However, he is 1-2 against Djokovic. Plus he won Wimbledon last four years ago and was eliminated in the first round last year.
Interestingly, Nadal beat Murray and Djokovic in the semifinals and finals of Roland Garros, respectively, to win his 14th Grand Slam. Then again, the Serbian has never won the French Open, so his one 2014 loss to Nadal shouldn't realistically be much of a setback, and while he especially shines in the Australian Open, he might repeat his 2011 Wimbledon win. And speaking of repeating, Andy Murray is the returning champion, which makes it an immediate favorite despite his ranking as 5th in the world. Murray might just take this chance to not only cement his position as king of Wimbledon but also to climb up the professional tennis ladder.