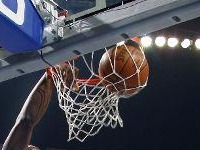 The first round order for the 2014 NBA draft has been set since May, with the Cleveland Cavaliers defying sportsbetting odds and snatching the coveted first pick for the second consecutive year and the for the third time in four years. The Cavs had the 9th worst record and only a 1.7% chance of winning the draft lottery. Thus, Cleveland will have a do-over of last year's Anthony Bennett, considered one of the worst overall picks in the last 20 years. That's a stark contrast with their 2011's #1 pick Kyrie Irving who quickly achieved All-Star status.
The Cavaliers will be at leisure to pick and choose from the best prospects, but the top pick seems to be down to three up-and-coming stars: Kansas' Andrew Wiggins and Joel Embid, and Duke's Jabari Parker. Read on to see how things will turn out.
Andrew Wiggins (guard) 
2013's top NBA college basketball recruit is accustomed to being number 1, but his tendency to disappear during big matches could overshadow his many achievements.
Joel Embiid (center)
A force to be reckoned with on both ends of the court, but his massive potential could be undercut by a back injury. If the Cavs let him slip, the Bucks will surely draft him
Jabari Parker (forward)
Has all the makings of a franchise player despite pulling an Andrew Wiggins during an unexpected Round of 64 loss to Mercer in the NCAA tournament. SBG has the NBA odds.
Though these three are the stronger candidates, the class of 2014 is brimming with talent including Julius Randle, Aaron Gordon, T.J. Warren, Marcus Smart, Noah Vonleh, Gary Harris, and Tyler Ennis, as well as international contenders such as Australian Dante Exum. As such, more than a few sports betting experts may be end up bewildered when all is said and done.