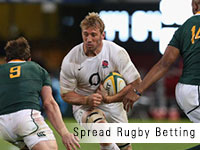 Along with fixed odds, rugby betting also allows for spread betting. There are several elements to this type of wagering; the bookmaker who makes a prediction on a future event, and the bettor who wages against the bookie's prediction. The even in this case would obviously be a rugby match, while the prediction is actually the spread. The bettor decides to wager higher or lower than the spread and wins or loses depending on whether they bet correctly and the margin between the bet and the actual result of the game. The more accurate the bet the bigger the return the bettor gets, and vice versa.
The main rugby spread betting types are supremacy, total points, shirt numbers, time of first try, and team performance. In supremacy, the sportsbook predicts the difference in points by which one team will defeat another. In total points the bookmaker predicts the total number points scored in an upcoming rugby game. In shirt numbers, the aggregate number of the try-scorers shirt numbers is predicted. In time of first try, the bet is placed on how many minutes it will take to score the first try; it may be first overall try scored by either team, or the first try scored by each individual team. And in team performance, the sportsbook predicts the general performance of a team assigning values to win, draw, try, conversion/penalty/drop goal, missed penalty or drop goal, yellow card/sin bin, and red card/sending off.
By way of example of one of the aforementioned methods in which you can bet on rugby, let's say that a sportsbook predict that team A will beat team B by 7-10 points. If you believe A will beat B by a margin of more than 10 points you would bet high at 10 for the stake of your choice, for example $5 per point.  If it turned out to be a close game, with A barely winning 11-6, the supremacy or winning margin would be just 5 points. Resultantly, you would lose 5 times your stake. On the other hand, if A had won by 20 points you would win 10 times your stake.