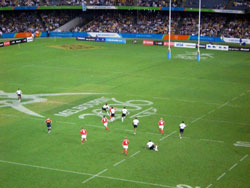 The sport of rugby has a limited history in the Olympics. Rugby union was played last in the 1924 Summer games, according to researchers at SBG Global. The 2016 Summer games will mark the return of the sport to the Olympics with the rugby sevens variant being played here.
The rugby sevens competition will be held over the course of two days. There were be separate events for men and women.
The games will include plenty of bets for people to make at sportsbooks. This especially comes as many sportsbooks, particularly ones in Nevada, have agreed to include bets on Olympic events at their locations.
The qualification process will include twelve teams for men and women alike. Great Britain, New Zealand, South Africa, the United States and Argentina are among the teams that have qualified on the mens' side. The womens' side has Australia, New Zealand, Canada, Great Britain and the United States.
Whether or not other parts of the United Kingdom will qualify for the event is unclear. One controversy here is that rugby sevens players in Northern Ireland will have to compete under the Republic of Ireland flag. This is because rugby teams in Ireland are on an all-island basis; this means that players in Northern Ireland have to play under the Irish flag.
As of August 2015, four teams still have to qualify for both sides. These include sides if Africa, Asia and Oceania. A final qualification tournament will also include many sides that were runners-up in many other qualification tournament. The men's side will entail Ireland, Germany, Canada and Chile among many others while the womens' tournament as Trinidad and Tobago plus Portugal.
The rugby sevens event at the 2016 Olympics will have additional details, particularly on the specific dates of the tournament and its exact location in Rio de Janeiro, as the event gets closer. Also, betting odds from SBG sportsbook will also be released then. This new sport for the Olympics will be a fun one to watch and to bet on as the event comes along.