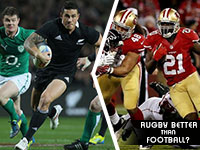 Those who bet on rugby know that this sport is a lot more than football without the helmets. Newcomers, on the other hand, might benefit from a brief explanation of the precepts of rugby wagering. There are many types of bets that you can place on rugby, and the following are a few examples of them. The simplest bet you can make is on the outcome of the game, and there are three alternatives to choose from: win, lose, or draw. Things can be made more interesting with handicap betting, in which the teams must win or lose by a given number of points assigned by the sportsbook.
There is also the possibility of betting on which team is going to be winning at half-time in addition to which team will be winning at full time, as well as on the highest-scoring half. Bettors also have the opportunity to place wagers based on the quantity and timing of points scored, regardless of the final outcome of the match. As such, you can bet on whether the total points for the game will be more or less, or to be more specific over or under, what the bookie has estimated for a particular match. Moreover, you can bet on which team scores first and which last, on what method the first points are scored (try, drop goal, or penalty), and on which team scores 10 points first.
As you can see, there are three ways to score points in rugby, but you can focus your bets on a single scoring method if that's what you want to. Thus, you can bet on the first individual try-scorer, last individual try-scorer, and total tries scored in the match by both teams. You can even bet on the aggregate number of the shirt numbers of a match's try-scorers. Whether or not you're a fan of rugby, there is no denying that there is plenty of action in rugby betting, and that's nothing to sneeze at if you are a fan of betting in general. And like said they look upon helmets with disdain, which might also make it even more fun to watch as well.