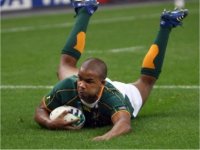 Rugby betting will see two of its most important events unfold this and the following year; namely, the Super 15 Grand Final and the Rugby World Cup. The Super 15 is the 4th edition of the 15-team format Super Rugby season, and comprises five teams from each the Australian (Waratahs, Brumbies, Force, Reds, and Rebels), New Zealand (Crusaders, Highlanders, Hurricanes, Blues, and Chiefs), and South African (Sharks, Bulls, Stormers, Lions, and Cheetahs) Conferences. Then Grand Final is set to be played on 2 August 2104, and the New South Wales Waratahs are slated to win their very first Super Rugby Cup.
Super 15 Grand Final Winner Odds
NSW Waratahs (17/10)
Sharks (9/4)
Crusaders (3/1)
Highlanders (12/1)
Hurricanes (14/1)
Brumbies (28/1)
Blues (40/1)
Chiefs (40/1)
Western Force (50/1)
Bulls (66/1)
The Waratahs have reached the Final twice before but have come up short in both occasions. Additionally, they've made as far as the semi-finals three times.
The Rugby World Cup will take place between 18 September and 31 October 2015 in England, with the participation of 20 different countries. Previous host and current champion New Zealand are the favorites to win again, followed by current host England. 2011's runner-up France is a bit removed from the top contenders, though it does have better odds than its immediate follower (any other nation). New Zealand has won the cup twice in three appearances, and curiously they have been both playing France. In between those two instances France also lost a final to Australia.
Rugby World Cup Winner Odds
New Zealand (3/2)
England (10/3)
South Africa (4/1)
Australia (9/1)
Ireland (14/1)
Wales (14/1)
France (16/1)
Any other team (66/1)
Argentina (100/1)
Samoa (125/1)
Scotland (300/1)
Fiji (750/1)
Italy (750/1)
Tonga (750/1)
For people who bet on rugby, any other team would be Japan, Canada, the United States, Georgia, Romania, and two more spots to be determined via repechage, and which may include Russian, Uruguay, Hong Kong, and others.