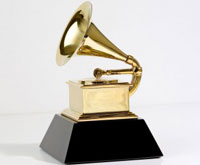 There's a good potential for the 2016 Grammy Awards to come with a few big names. While the gambling odds for who will win at the 2016 Grammys haven't been revealed yet, there are a few names that are expected to be big.
Will Taylor Win Big?
To say that Taylor Swift is the biggest name in the world of music would be an understatement. Her big sales numbers could equate to some clear Grammy nominations including one for 1989 as the Album of the Year. Shake It Off is the only song on the album not eligible for any Song or Record of the Year awards as that single was released outside the eligibility timeline.
Mark Ronson May Pull Through
Mark Ronson has been nominated four times as a producer for the Record of the Year award but has not won. He could win it in 2016 as the producer-performer of Uptown Funk, the song he made with Bruno Mars. The song was a big hit on the charts so it will probably become a big favorite for a few awards.
Other Big Contenders
Ed Sheeran is expected to be a contender in the pop field for the 2016 Grammys. Madonna may also be included as a nominee.
Drake and Kendrick Lamar are also expected to be contenders in the rap field. The Foo Fighters and Alabama Shakes are favorites to be in the rock category.
What About Dark Horses?
Every year a lesser-known act like Bon Iver or Arcade Fire manages to make it into the Grammys thanks to the strong critical reception that such artists get. Acts like Jamie xx, Wilco, Sharon Van Etten, Paul Weller, Miguel, Twenty One Pilots and Faith No More have all received strong reviews for their most recent Grammy-eligible albums. However, their lack of exposure when compared with some of the earlier mentioned artists might keep them from getting nominations.
Of course, considering how Taylor Swift has owned the pop world for the past year, she will probably be the favorite to win at the 2016 Grammys. Only time will tell as the nominees are released in the future.