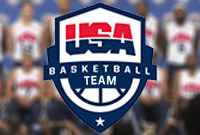 The United States men's Olympic basketball team is as usual the online betting favorite to win the gold medal in the 2016 Rio de Janeiro Olympic Games. Ever since NBA players first became eligible to play in Olympic basketball in Barcelona 1992 (the original, and to many, the only Dream Team), the US has won the Olympic tournament five out of six times – only coming up short in Athens 2004 where they won the bronze and Argentina won the gold. Most recently, American basketball prevailed in London 2012 with a team that included LeBron James, Russell Westbrook, Kobe Bryant, Andre Iguodala, and Kevil Love – all of whom will be absent this time around.
Nevertheless, the 2016 team is still star-studded and worthy of being sports betting favorites. The brand-new NBA champions Cleveland Cavaliers will be represented by the King's man Kyrie Irving, while runner-ups the Golden State Warriors will lend the talents of one half of the Splash Brothers Klay Thompson, Harrison Barnes, and Draymond Green. Additionally, the team will feature Kyle Lowry and DeMar DeRozan of the Toronto Raptors, Jimmy Butler of the Chicago Bulls, Kevin Durant of the Oklahoma Thunder, DeMarcus Cousins of the Sacramento Kings, Paul George of the Indiana Pacers, and Anthony Carmelo of the New York Knicks.

However, the NBA being a global league, other league stars can be found in teams from around the world, and those teams could arguably be included in the conversation regarding online betting favorites. For instance, Argentina has Manu Ginobili of the San Antonio Spurs. Ginobili – a two-time All Star – is dangerously closing in on 40 years, and his numbers from last season reflect his ripe old age. He averaged 9.6 points, 1.1 steals, and 3.1 assists per game in 58 regular season games, and 8 points, .6 steals, and 4.1 assists in 7 playoffs games. Still, he does have the experience to be an on-court leader and mentor.

As for Brazil, their Olympic team boasts a tandem straight from the best-ever NBA team – in terms of win-loss record, at least. In 2016, Leandro Barbosa averaged 15.9 minutes6.4 points, 1.2 assists, and 1.7 rebounds per game in 68 regular season games, and 11 minutes, 5.6 points, and 1.2 rebounds in 23 postseason games with Golden State. And Anderson Varejao averaged 8.5 minutes, 2.6 points, and 2.3 rebounds in 22 regular season games, and 5.5 minutes, 1.2 points, and 1.2 rebounds in 17 playoffs games in his first year with the Warriors. May not sound like anything to write home about, but both Barbosa and Varejao were part of one of the best pack of reserves in the NBA, and Brazil could certainly use their high-profile experience in order to improve their online betting odds.