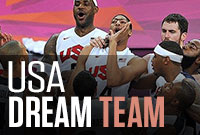 Rio Olympics betting is right around the corner and Team USA composed of the some of the greatest NBA players opened camp yesterday in Las Vegas and is headed to some exhibition games before the Olympics. Kevin Durant made headlines for his decision and consequently will have all eyes on him during this process with the Olympic Team. He is the face of the roster and will most likely be the most valuable player as there will be no Steph Curry and no Lebron James this time. If you are a fan of basketball and you want to bet on the Olympics you need to keep an eye on KD and his international style of play. This is set to be the summer of Kevin Durant. It's a nice opportunity for him to get comfortable in the court with fellow Warriors Klay Thompson and Draymond Green.
Speaking of Draymond Green, he has also been making headlines but unfortunately for all the wrong reasons. He has a constant cycle of getting in trouble and apologizing. "When we met [Sunday], we gave him a chance to address the team," USA Basketball chairman Jerry Colangelo said in an interview. "Basically, he said he wanted to apologize for what happened. "We were talking about the things that are important to us as a team, that are really strong principles, and being able to maintain your composure is one of them. He knows that's not what happened and what should have happened. He had a chance to share with the players." Let's just hope Green is able to control his behavior on and off the court and stays out of trouble or else the Olympics betting odds might be affected because of his wrong decisions.

With no Lebron and no Curry, you wonder if this team might have a few weaknesses however there are great players to rely their success on. They are loaded with talent and it is highly unlikely that they don't get the gold as favorites at the Olympics betting odds. One player that will have the spotlight on him is Carmelo Anthony. International competitions take out the best in him. He is well suited for the Rio Olympics and will make use of the space left by Lebron to shine his game to the fullest.

Bottom line is, this will be a great showdown for all basketball lovers around the world. Despite not having top players like Lebron and Curry, there is no doubt that the USA basketball Dream Team will crush each and every one of their opponents as all these great NBA players come together to defend America's color and pride.