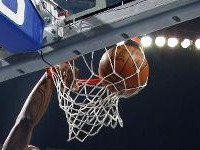 You knew this wouldn't be pretty. Team USA entered this contest as 42.5 point favorites and somehow that didn't seem like enough. The over/under was 168.
When the game between Team USA and Nigeria mercifully came to an end the United States entry had nearly covered the O/U by themselves. They did "cover," to say the least, in their 156-73 demolition of Nigeria. They actually fell only two points shy of double covering.
Where should we begin? Perhaps with Coach K giving the boys a day off on Wednesday. Kevin Durant relaxed while watching beach volleyball, while James Harden and Carmelo Anthony enjoyed the pugilistic art of boxing. Check the Sportsbook Odds for the 2012 Olympic Games
The fisticuffs appears to have inspired Melo as he set an Olympics scoring record of 37 points. To make it all the more impressive, he did it before the end of the third quarter. That will happen when you go 10 for 12 from beyond the arc as he did on Thursday.
Other Olympic basketball records set by the U.S. include, most overall three pointers (26), most field goals (59) and a field goal percentage of 71 percent. Russell Westbrook had 21 points and Kobe Bryant contributed another 16.
So now with three wins under their belts after previously defeating France and Tunisia, things become a bit more intersesting for the Americans. On Saturday they face Lithuania who is considered a formidable opponent although they dropped to 1-2 in the tourney, falling to France 82-74.
The last time the U.S. and Lithuania played was during the 2010 FIBA World Championships. Interestingly enough, in that game, Kevin Durant set an international scoring record of his own, netting 38 points in the 89-74 U.S. victory. Start your Online Sportsbook action on the Olympic Games.
The best matchup in the game versus the Lituanians should be LeBron James and Linas Kleiza. While in sheer talent there is no comparison, Kleiza compares in size to King James and is Lithuania's best player.
You won't be able to sleep in on Saturday if you want to watch this one on the NBC Sports Network, as it will begin at 9:30am eastern time. Team USA is favored by 34.5 points against Lithuania. The over/under of 186.5 total points is available on a $110/$100 moneyline.
Open an Account for the best Sportsbook Parlay and Vegas Teaser Payouts in the Industry.