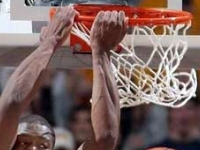 This years USA Basketball Olympic team is almost as much about who isn't playing as it is about who is. With the likes of Dwight Howard, Derrick Rose, Dwyane Wade and Chris Bosh all unable to play due to injuries, one may think there is cause for concern.
But fear not. Superman may be unavailable, but there is still a king ready to lead this group to the gold. That would be King James, accompanied by merrymen such as Kobe Bryant, Carmelo Anthony, Kevin Durant and Deron Williams who should fare well.
Other members of the squad will include Russell Westbrook, James Harden and Andre Igoudala. Check the Olympic Games Odds at SBG Global.
Kevin Love, Blake Griffen, Tyson Chandler and Chris Paul will also be present. First overall pick of the NBA draft, Anthony Davis will also miss out due to a sprained ankle suffered last week while practicing for the try outs.
It could be argued that this team is deeper and more versatile than the one that captured the gold in Beijing four years ago. Wade was the leading scorer on the 2008 unit, but now they have Durant who can score a bit himself. Durant's OKC teammate, Westbrook will also help fill the D-Wade void.
And while Tyson Chandler is no Superman, he'll sneak up on some opponents disguised as Clark Kent and hold his own, even versus some of the better European big men. Then, who better than James Harden, sixth man of the year award winner, to jump off the bench and net a quick two or three. Check the Basketball Odds for the Olympic Games.
With all of this said, it will be difficult to match the outstanding performance in China four years ago. That American team averaged 106 points and beat the competition by a margin of 30 per game average. The only close game was the gold medal contest, where Spain hung tough until the U.S. got serious in the final 2.5 minutes for the 118-107 win. I would expect another fine rendition of the "Star Spangled Banner" following this year's championship game as well.
Open an Account for the best Sportsbook Parlay and Vegas Teaser Payouts in the Industry.