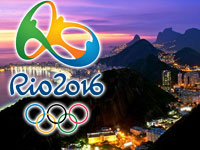 Like the World Cup, Summer Olympics occur four years apart, so you want to get some Olympics betting action two years from now when the next Olympic Games take place in Rio de Janeiro, Brazil -only two years after the global soccer tournament. The 2016 Olympics will comprise 19 excitement-filled days starting on August 3 and ending on August 21. For the first time since Kevin Sorbo invented the games in an episode of Hercules: The Legendary Journeys, a South American city will host the competition. There will be over 300 different sporting events so there will be plenty of gambling activity to be had.
These events will be spread across 28 sports and 41 disciplines, as seen below:
·       Aquatics
–      Diving
–      Swimming
–      Synchronized swimming
–      Water polo
·       Archery
·       Athletics
·       Badminton
·       Basketball
·       Boxing
·       Canoeing
–      Slalom
–      Sprint
·       Cycling
–      BMX
–      Mountain biking
–      Road
–      Track
·       Equestrian
–      Dressage
–      Eventing
–      Jumping
·       Fencing
·       Field Hockey
·       Football
·       Golf
·       Gymnastics
–      Artistic
–      Rhythmic
–      Trampoline
·       Handball
·       Judo
·       Modern pentathlon
·       Rowing
·       Rugby sevens
·       Sailing
·       Shooting
·       Table tennis
·       Taekwondo
·       Tennis
·       Triathlon
·       Volleyball
–      Volleyball
–      Beach volleyball
·       Weightlifting
·       Wrestling
–      Freestyle
–      Greco-roman
Additionally, not only is it possible to be on the outcomes of individual events -as well as many other types of bets depending on the sport-, but on which athlete or team will ultimately win the bronze, silver, and gold medals. Olympic odds will of course also apply on the overall winner of the game. If you're into baseball, softball, karate, squash, or roller sports, though, you'll have to wait at least another four years, if not longer. But those sports -and squash- will certainly not be missed thanks to the slew of sporting activity that will once again turn Brazil into the world's center of attention for two and a half extraordinary weeks in the month of August of the year of our lord 2016.