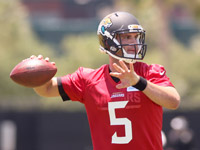 One of the beauties of NFL Football and Offshore betting is on how teams that once where at the bottom, down and out, can turn things around. In the upcoming 2014 season, with the movements and draft already past, certain teams are expected to improve their win/lose department.
Perhaps gathering all the media's attention in Cleveland, similar to when Lebron James was at the Cavs, Johnny Manziel is expected to give the Cleveland Browns a new life. The rookie Quarterback's impact on the League (as far as on the field performances) can maybe include the Browns of a clear fight for a wild-card spot this season. For online wagering purposes the Browns will be amongst the most popular this coming season.
The Falcons had a rough season on 2013. Atlanta stumbled, to put it on kind words, to a 4-12 record. Matt Ryan is a great quality Quarterback, but the Falcon's problems were not on his department. Defense was lacking greatly. In the off season, signing free-agent Paul Soliai and drafting Ra'Shede Hageman should give them a more secure defense. Should the Falcons produce on offense and with some adjustments Atlanta could pose as a difficult opponent to both Saints and Panthers.
The Houston Texans were becoming a young and exciting new franchise, but on the 2013 season they produced a disappointing performance. This year the Houston franchise is going through the proverbial "rebuilding year". They added Ryan Fitzpatrick as a Quarterback and with the return of Arian Foster to the Running Back position. Now Houston has the talent to turn things around, but the big question mark of what could be the true expectations of the Texans lay on what will happen with Andre Johnson. The receiver has reportedly stayed away from the organization as a clear show of displeasure with the organization.
The Washington Redskins very likely will have their name changed, and hopefully for them, so will their win/loss record. Wagering online for the Redskins last season might have cause some fans some money. But this coming season, Washington chances are looking to improve. RGIII is expected to deliver a good performance and the addition of DeSean Jackson will bring a lot of improvement to this franchise.