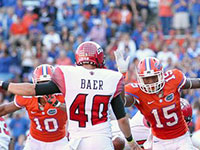 In College Football, standing out in offense is key to having a successful season, and offshore betting fans know this by heart. At times, luck will have it that teams will encounter unique chemistry in their offense and are able to put together a Triple Threat Offense. Combining good quality quarterback, with a good running back and adding a good wide receiver to the mix, can really make the team stand out from the rest. We would like to highlight some teams that have found that triple threat combination and are likely to make betting offshore much more fun this season.
First on the list is the great setup that Auburn has setup. With a star Quarterback in Nick Marshall, his story on becoming one of College Football's best prospects is aided by the fact that the Auburn offense also has RB Corey Grant and WR D'haquille Williams. Displaying amazing speed, Corey Grant has the moves to turn heads all over the league, while Williams is one of the top receivers in the SEC, showing some impressive skills.
Arizona State might be considered as underrated, but there is no reason to sleep on their offensive prowess. Offshore betting fans should keep and eye out for them. The combination of QB Taylor Kelly, RB D.J. Foster and WR Jaelen Strong. These three players in their own right stand out as top talents in college football now a days.
Baylor this year is a contending team, and this is not just our analysis, it is a wide spread consideration made by many experts. The reason? These three names: Bryce Petty, Shick Linwood and Antwan Goodley. Petty is an amazing quarterback that is displaying RGIII like performances. Shock Linwood, a running back, displayed enormous potential and if everything goes as expected for them, he could bring in monster numbers in favor of Baylor. Finally, Goodley slowly showed last season how he was a sensational WR. This season we can expect him becoming a favored target by Bryce Petty.
Finally, Florida State, has an exciting running back in Karlos Williams, he is expected to be in the discussion of the Heisman conversation. Besides him WR Rashad Greene he is regarded by many as the best Wide Receiver on this team, and that's saying a lot considering the prestige Floride State football program has. Green is hoped to bring a monster season for the Seminoles this year. Last but not least, QB Jameis Winston is a player that is a coache's dream. Touted as the "next big player" in college football, and perhaps the best college football player this season. He is the star player of this team and the one who will have everybody's eyes fixed on him this season.