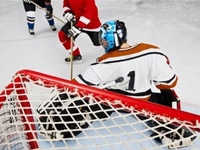 It has been said, there is no greater moment in sports than a game seven in the NHL playoffs. Add to this, the majestic atmosphere of Madison Square Garden and it can't get any better than that. So this is where we are at, come Saturday night, with the puck drop between the Washington Capitals and New York Rangers scheduled for 7:35ET.

You can watch all of the excitement unfold as the contest will be televised nationally by the NBC Sports network.
The winner advances and the losers go home and pull out their golf clubs. The event was set up on Wednesday night at the Verizon Center in the nations capital. Start your Hockey Betting action on Washington Capitals vs. New York Rangers game.

After a heart breaking loss in game five, you might have thought the Capitals were through, even with the next game on home ice. The Rangers appeared to be the team headed to a 3-2 series deficit in that one, until a Brad Richards goal tied the game in the final seconds and Marc Staahl won it 3-2 with a score of his own in the extra session.

Going back to game three, the Caps also suffered a tough defeat, laboring through three overtime periods and finally succumbing to New York 2-1. Give Washington credit for coming back in game four to stay in the series.

As New York's own Yogi Berra would say, it was "deja vu all over again" for Washington in game six. Much of the credit for this victory must go to Capitals netminder, Braden Holtby. He saved 30 of 31 shots for a .968 save percentage during the sixty minutes. Alex Ovechkin and Jason Chimura scored for the Caps in the 2-1 victory. Check the Sportsbook Odds for Washington Capitals vs. New York Rangers game.

This will be the Capitals second Game Seven in a row on the road during the postseason. A win gives them their first Eastern Conference Finals appearance since 1998. The Rangers are favored on home ice at -$145, while Washington is at +$125. The moneyline on the over / under is $135/$100 on 4.5 total goals.

Open an account for the best Sportsbook Parlay and Vegas Teaser Payouts in the Industry.