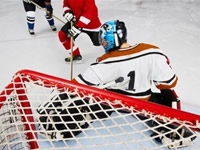 The Lightning depart the warm and sunny bay of Tampa and head to the chilly northlands, as they meet the Montreal Canadiens at its Bell Centre tonight. Puck drop is scheduled for 7:30ET. Its the story of the also rans in this one, with both teams out of playoff contention.

Tampa Bay however, is more than capable of playing spoiler as evidenced by their overtime win against Winnipeg on Saturday. Then on Monday, Teddy Purcell and Victor Hedman tallyed goals just 25 seconds apart to put the Lightning ahead. The Washington Capitals came back to tie it late, but once again it was Steven Stamkos to the rescue, scoring the game winner with just over a minute left in regulation. Then, just for the fun of it, he shot the puck into the Capitals empty net seconds later. Start your Hockey Betting action on Tampa Bay Lightning vs. Montreal Canadiens game.

Hockey fans won't be watching this one for the non existent playoff implications, but many will tune in to observe Stamkos' quest for a 60 goal season. He enters tonight's affair with 58. Last season, Corey Perry led the NHL with exactly 50 goals.

Montreal is in a state of disarray having already fired their former General Manager, Pierre Gauthier last week. After the firing, the Habs proceeded to get soundly beat by a much superior foe in the New York Rangers 4-1 on Friday night in the Big Apple. To their credit, they did fight the good fight on Saturday, against the same Washington Capital team that the Lightning came back against on Monday. Check the Sportsbook Odds for Tampa Bay Lightning vs. Montreal Canadiens game.

In this one, the Canadiens recovered from a two goal deficit with scores from Erik Cole and Tomas Plekanec forcing the game to overtime. They then proceeded to out shoot the Caps 5-0 in OT to no avail and then lost it in the shootout.

The Lightning lead the season series versus the Canadiens 2-1 having won both games in the Bay. The Habs were victorious against them on January 7 at home 3-1. The other two games were decided by 1 goal. Montreal is a home favorite requiring a $115 bet to win $100. The Lightning are -105. The moneyline is also $115/$100 on the over/under of 5.5 total goals.

Open an account for the best Sportsbook Parlay and Vegas Teaser Payouts in the Industry.