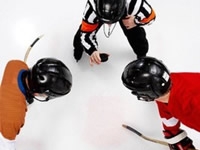 It's win or take the short trip home for the Eastern Conference number one seed New York Rangers as they face the New Jersey Devils in Newark tonight trailing three games to two. The first drop of the puck is scheduled for 8:00ET and can be seen nationally on the NBC Sports Network.

The Rangers and Devils have enjoyed the quick journeys between Manhattan and Newark in this series, but they better prepare themselves for the coast to coast flights that await them when the winner of this group of games has to go against the Kings of Los Angeles for Lord Stanleys Cup. The Kings defeated the Phoenix Coyotes last week and are now most likely resting by some pool in Hollywood. Start your NHL Betting action on Rangers vs. Devils game

But back to the real world of the Rangers and Devils. The Devils were no slouches during the regular season winning 48 games to the Rangers 51 with one less regulation tie. They have shown they can not only play with New York, but have really outplayed them for the most part through the first five games, thus, the 3-2 Devils edge entering tonight's affair.

In game five of this matchup, it looked like the Rangers were ready to take control and be the series leader, when they came back from a 3-0 deficit halfway through the first period to tie the contest at 3-3. However, they seemed to have exerted too much energy in the comeback when after getting the goal to tie it early in period three, the Devils took the game back and eventually won it 5-3, on a goal by Ryan Carter with approximately five minutes left and a vacant net score by Zach Parise. Check the Sportsbook Odds for Rangers vs. Devils game.

The Rangers have faced adversity before during these playoffs, having to beat Ottawa in a game six road game, just like tonight and then game seven at home. They faced elimination against Washington, but emerged victorious in that game seven too.

Henrik Lundqvist needs to return to the form he showed in the game one and three shutouts he registered, if the Rangers want to see another game seven in Madison Square Garden on Sunday. New Jersey is the home ice favorite tonight at -$120, while the Rangers are even money. The moneyline on the over / under is $120/$100 on 4.5 total goals.

Open an account to take advantage of the Best Initial and Reload Bonuses in the Industry.