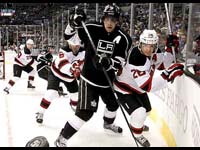 The Devils have lived to see another day, with their 3-1 victory over the Los Angeles Kings in Tinseltown on Wednesday night. That day will be Saturday, back at Newark's Prudential Center beginning at 8:00ET.
This one is scheduled to be back on the "real" NBC network and will serve as a lead in to Saturday Night Live.
But it will be no laughing matter for the Devils if they are not victorious in front of their own fans. A loss will have the Kings hoisting the Stanley Cup there instead. Should they emerge with the win however, that light at the end of the tunnel will look a little brighter in the series that presently stands at 3-1 in L.A.'s favor.
The Devil faithful had best not get overly excited though, as these Kings from L.A. are a perfect 10-0 in road games this postseason.
Perhaps New Jersey can request a change of venue back to Southern California. As it is, instead of returning home to relax on the Jersey shore, the Devils will now prepare to extend this series three more games.
Could it be the Kings netminder, Jonathan quick is finally tiring? For most goalies surrendering 3 goals would not be a major concern, but when you consider he had a 1.41 goals against average in the NHL betting postseason, those three scores may seem like a blowout. Actually one of the goals was an empty netter, so maybe we should reserve our judgment going into game five. That being said, the two pucks the Devils did get past Quick were within eight minutes of each other during the final period. Patrick Elias scored at 12:04 and Adam Henrique got the difference maker at 4:31.
I wouldn't entirely write off New Jersey just yet, as they have given the Kings all they can handle, even while losing three of four.
Certainly the Devils will need Zach Parise and Ilya Kovalchuk to pick up the pace if they are to return to Hollywood for game six.
This game is currently a "pick em" as both teams have been posted at -$110. The same bet of $110 will be required to play the over/under of 4.5.