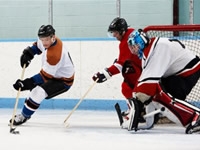 The NHL Eastern Conference Finals are set and you won't have to travel far to see all the games up close and personal. It's the New Jersey Devils and New York Rangers beginning tonight in Manhattan at majestic Madison Square Garden. You can watch all the excitement, nationally on the NBC Sports Network beginning at 8:00ET.

And exciting it should be, as evidenced in their last meeting of the regular season when a fight erupted involving no less than six players a mere three seconds after the games first puck drop. The Devils and Rangers split the six contests during the year, with three wins apiece. Each goaltender also enjoyed a shutout within the six affairs as well. Start your NHL Betting action on Devils vs. Rangers game

They last met in a Conference finals in 1994. In that series, the Rangers rebounded from being down three games to two and win the final pair of games for a seven game series victory. You might say that has little relevance eighteen years later and I would agree. However, it should be noted, that the New Jersey goaltender in 1994 was none other than the same guy who will be in net tonight for the Devils by the name of Martin Brodeur.

Brodeur is now forty years of age, but continues to provide a solid effort night in and night out for New Jersey. After the wakeup call of being pulled from the quarterfinal series against the Panthers in game three, all Brodeur has done is go 7 wins, 2 losses with a 1.74 goals against average and a save percentage of .933.

His counterpart on New York is no slouch either. Henrik Lundqvist has been impressive throughout the season and the playoffs thus far. He has had exceptional success in his career versus the Devils with a 25-11-5 overall mark. His goals against average in those forty one games was 1.79 and a save percentage of .936. Check the Sportsbook Odds for Devils vs. Rangers game.

New Jersey comes into tonight's game well rested, having sent the Flyers home after just five games in the previous series, while it took New York all seven games to emerge victorious against the Washington Capitals.
New York will be missing two forwards, Brandon Dubinsky and Mats Zuccarello due to injuries. The Rangers are home favorites at -$130. The Devils are +$110. The over / under is also at -$130 and set at 4.5 total goals.

Open an account for the best Sportsbook Parlay and Vegas Teaser Payouts in the Industry.