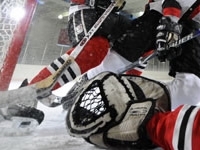 The New York Rangers have a 2-1 lead over the New Jersey Devils in the Eastern Conference Finals. The Rangers are coming off of a 3-0 victory from this past Saturday and will be trying to get another win in the series in Newark's Prudential Center tonight.

The Rangers' shutout victory on Saturday was actually the second time that the Rangers won a game 3-0 against the Devils. The Rangers did this during the first game in the series. The Rangers didn't even score their goals until the third period of each game. The difference is that Henrik Lundqvist had 36 saves on Saturday's game compared to just 21 on the first game on May 14. Start your NHL Betting action on Devils vs. Rangers game

The Rangers have been more effective on the penalty kill. The Rangers are 84.5% in that category and have given up only nine power play goals. The Devils are only 73.2% and have given up fifteen of these goals. The two teams are also around 18% on the power play for the playoffs.

Brandon Prust will be playing for the Rangers tonight. He was suspended by the league for the game after elbowing the Devils' Anton Volchenkov on Saturday. Prust, who is a right wing, only has one assist this postseason but he is averaging about thirteen minutes of ice time per game. Peculiarly enough, Prust also leads the Rangers with 27 penalty minutes.

The Devils' defense has been limiting the Rangers' number of shots on goal. The Rangers have not gotten more than thirty shots against Martin Brodeur during any of the first few games in the series. In fact, Brodeur has only faced that many shots in three of his fifteen games in the postseason. Check the Sportsbook Odds for Devils vs. Rangers game.

The New Jersey Devils are favored to win tonight's game but their neighbors from about ten miles away on the other side of the Hudson River are expected to compete. The Devils are -120 favorites while the Rangers have even money on them. The Devils are also at a +270 bet to go over the -1.5 spread. The over/under on goals for the game is 4.5.

Open an account for the best Sportsbook Parlay and Vegas Teaser Payouts in the Industry.